Tweet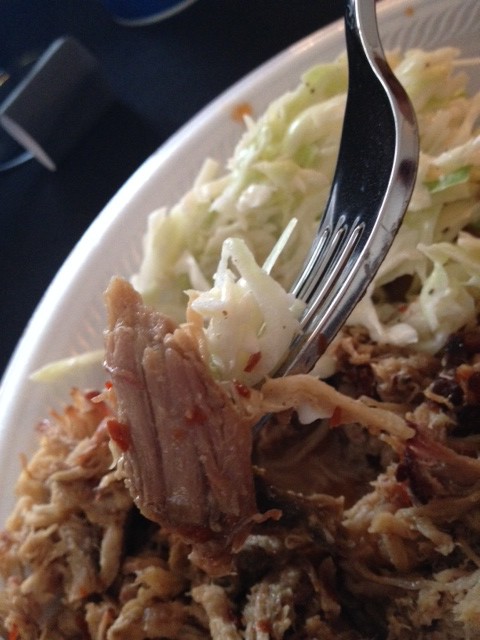 This week's Handmade in Raleigh is sort of a stretch, but I wanted to pay homage to some fantastic fare that's handmade close to Raleigh. It would be a disservice to my readers to not give this place a shout out.
I connect with people over food. I really love those kindred spirits who can talk to you about their next meal while you are in the midst of brushing off the crumbs on your chin from your current meal. The actual ingredients of a meal are not necessarily center stage. A good meal is as much about the people who prepare it. I have always been drawn to people who love to cook and eat, and truth be told, I think it's a character flaw if you don't appreciate food. This is what drew me to Matthew Register of Southern Smoke BBQ.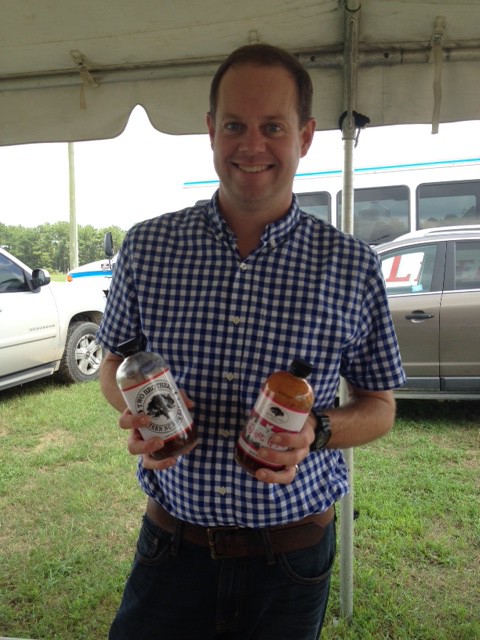 I first met Matthew when I toured pig farms in September. He sported a gingham button down and was so clean cut he looked like he stepped from the pages of J. Crew rather than from the smoke of Maybelle, his pig cooker (He names all his cookers, and he affectionately tells me "it all started with Jezebel."). I've since referred to Matthew as the "Preppy Pitmaster." He's an easy going soul who exudes a love for his family, food, and feeding people. As we rested for lunch on a sunny fall day in Eastern North Carolina, I gushed proudly as I heard fellow bloggers from around the country swoon too. These folks were, after all, virgins to North Carolina barbecue. I heard audible groans of delight, especially once those ladies plopped the slaw atop the heaping pile of chopped pork and squished the bun down. There is a taste of heaven on your fingertips when you lick off the intermingling juices from the slaw and pork and sauce (I'm partial to Sweet Grace). 
Matthew makes his own sauce and offers two varieties, Sweet Grace, named after his daughter, and the tangy Two Brothers, named for his sons. You can buy both from retailers around the state. Matthew hails from a family of educators, which makes me love all the Registers for what they have imparted to the children of our state. It's his wife's family with the roots in old school wood smoked barbecue. Matthew learned to cook from his wife's grandfather, and I imagine he will wear the teacher mantle as he one day teaches his own kids the ways of properly cooking a pig.
Southern Smoke BBQ is in Garland, NC, a town of 400 people East of Raleigh. Mac Daddy is from a similar size town in Wisconsin so I can appreciate the quirks and quaintness of such a place. Matthew grew up in Garland and cements his relationship and heritage with the small town, eschewing bigger (but not necessarily better) opportunities in other markets. This sort of adherence to his core values comes through in his cooking. Authenticity rings true while so many others mimic it. Matthew's adoration for all things BBQ are apparent in any conversation you have with him. He's eager, knowledgeable, and ever so affable. I mean really, just look at this happy family of Registers.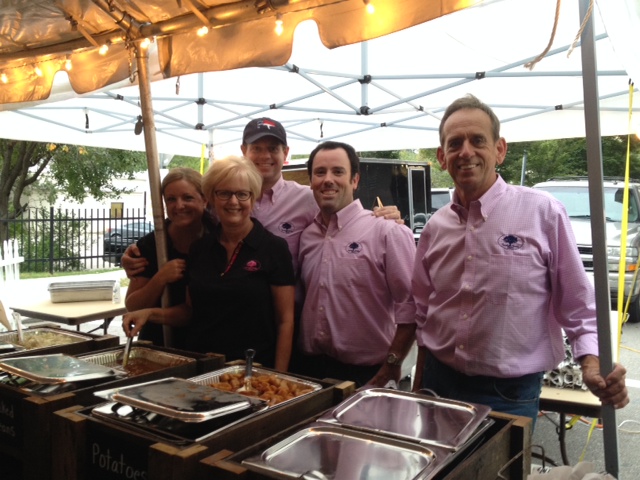 You can enjoy Southern Smoke BBQ in Garland on Thursdays and Fridays starting at 11:30, though the line forms well before then. They're open until 4:00 or when the food runs out. I'm venturing a guess that they never make it to 4:00. There's hand chopped barbecue every day along with a smattering of homemade sides. Matthew's always tinkering in the kitchen so there's bound to be some surprise items on the daily chalkboard menu. Matthew says he wants to you sit down at a communal outdoor table and feel like you're sitting at his table sharing a meal. I think he's accomplished that, and he'd rather you show up to the restaurant than his house. 😉 
Check it out for yourself. 29 Warren Street, Garland, NC. For five bucks you can get a BBQ sandwich, side, and Kool Aid. This is gourmet quality eats for a steal. There's catering too so if you're in Raleigh, Wilmington, or Myrtle Beach, give Matthew a ring. Hmmm…I'm wondering if he can squeeze us in for our 16th annual Christmas Eve party…
Now back to the love of food that initially sparked my love of Southern Smoke BBQ… Matthew and I share the philosophy that food connects us and defines us. We identify with our past and sense of place by the food we eat. Our senses of smell and taste conjure up memories, and sharing a meal with those we love is life's simplest yet greatest pleasure. You might say I've drunk the Southern Smoke BBQ Kool Aid!
Tweet