Tweet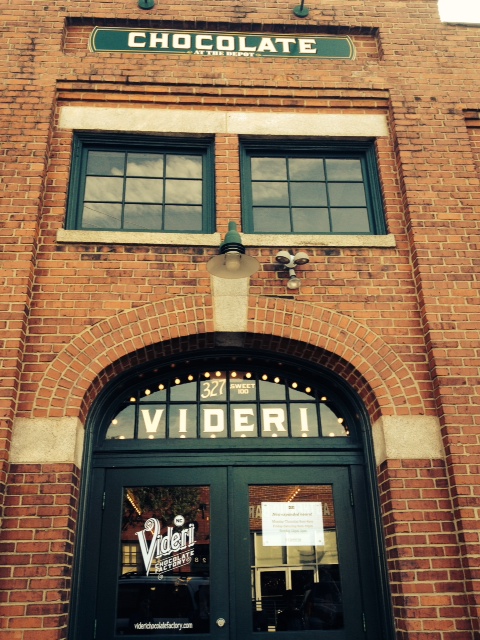 Today's installment of Handmade in Raleigh features Videri Chocolate Factory. Any idea why the brand is called Videri?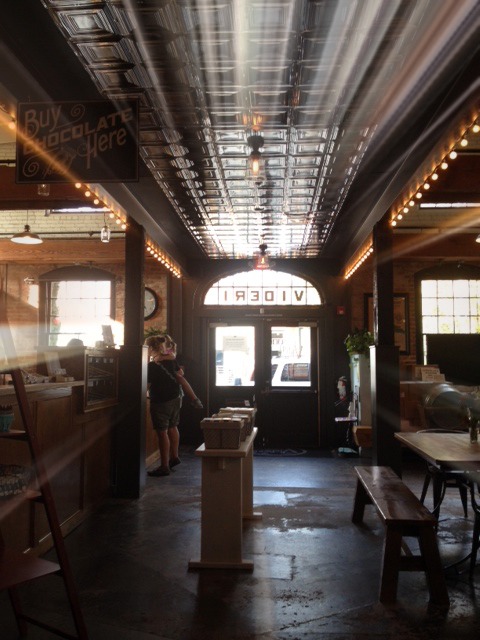 I imagine they're the coolest parents at career day. Amongst the accountants, attorneys, orthodontists, and interior designers are Sam and Starr, chocolatiers. I figure they leave a trail of decadent cocoa aromas in their path, the pied piper of confections. The Videri chocolate factory and storefront are an olfactory fireworks show, with a tasting bar to round out the senses. I was partial to the pink peppercorn, which I shall ration and enjoy with a glass of red wine on my porch. Videri has a pretty lush patio area that's BYOB so you might also find me there, where the chocolate never runs dry.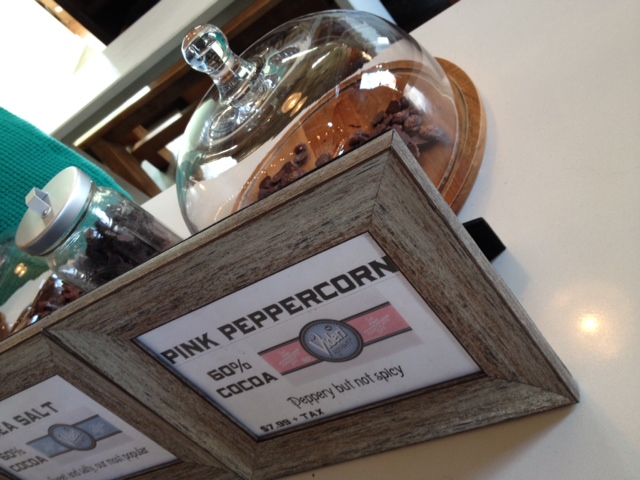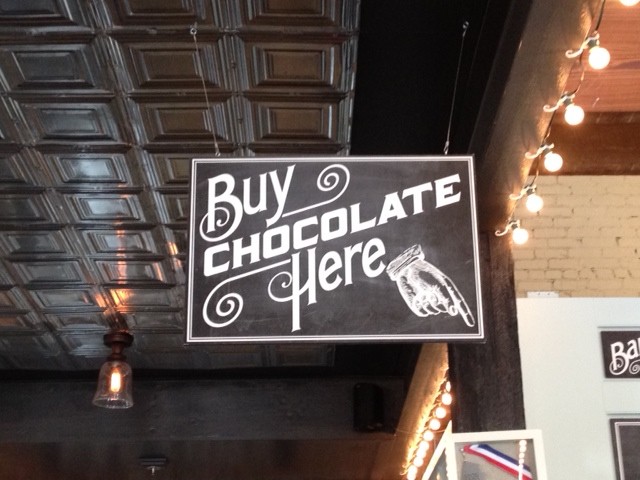 The boys and I visited Videri and had the best after school treat yesterday. Frozen hot chocolate for them. Sipping chocolate for me. I drool as I think about it. I had no idea sipping chocolate was even a thing. It might have been the closest to a religious awakening I have felt in recent months. This is decadence in a cup, my friends.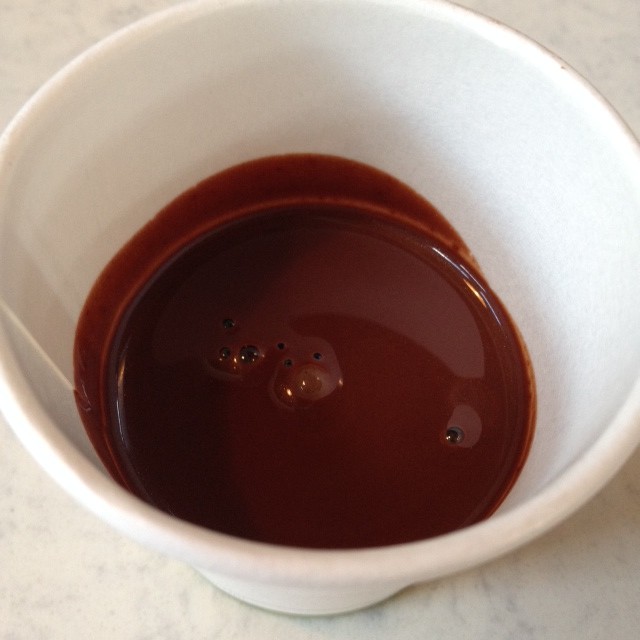 The factory tour is self guided and brief so even your scrambliest kids will be engaged. I really had no idea how to get chocolate from a little brown bean to creamy goodness. I had no idea about roasting and winnowing and tempering. Well, I learned the Videri way, and all others shall forever pale in comparison. Videri uses organic, fair trade ingredients to craft its chocolatey treats. Who knew that so much goodness could come from simple cocoa beans, cocoa butter, and cane sugar?
I love the vibe of the place, housed in a relic of a train depot in downtown Raleigh. As you can imagine, the architectural details lend themselves to the aura of a time gone by, giving you a sense of place that is very much in tune with the brand. At every turn there's something cool to check out, from the exposed beams and brick to the wide plank floors, all things that make this lover of old spaces simply swoon. The space is perfect for gabbing or working…wifi and outlets! And I don't know about you, but I'm willing to bet that working amidst the aroma of chocolate does wonders for your productivity. All those antioxidants in chocolate make it nature's power food, right?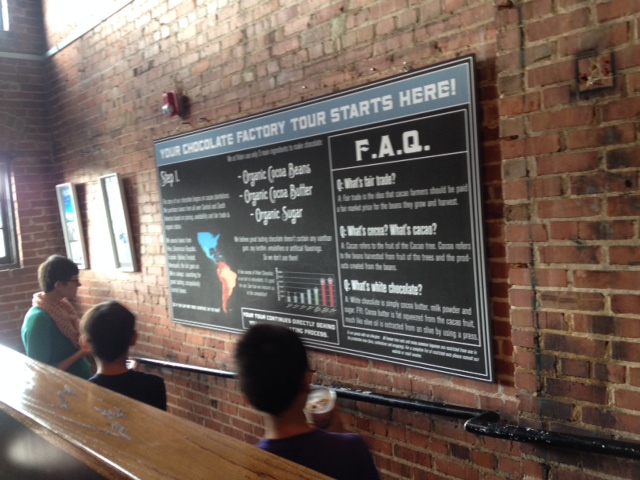 Videri is truly handmade, small batch chocolatiering. You can taste that each bar was made with tenderness and reverence for the ingredients and the people that grew them. We are diehard milk chocolate lovers over here, but Videri has us leaning toward the darker side. Try the sea salt. It's a family favorite. I'll be buying Videri chocolate for hostess gifts this season. The packaging is simply lovely and unique, saving me a step.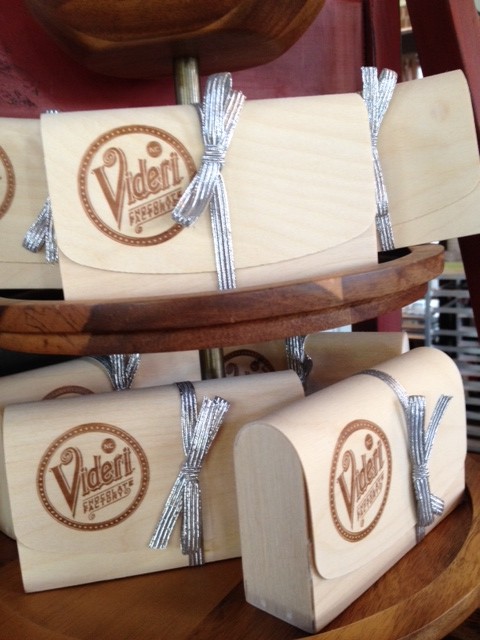 I'm the stereotypical woman who keeps an emergency stash of chocolate out of reach from my kids. I've been known to be a picky chocolate eater, eschewing the grocery check out aisle brands in favor of an indulgent truffle. I grew up traveling a lot and enjoyed the rich chocolates of Europe. Germany, Switzerland, Belgium…Confession: I always landed on the British grocery aisle brand, the Cadbury Flake and count it among my guilty pleasures. I'll be adding some Videri bars to the stash, but don't expect me to share. 
And just like that, I bet that resident career day accountant covets a new sort of bean counting job.
Tweet