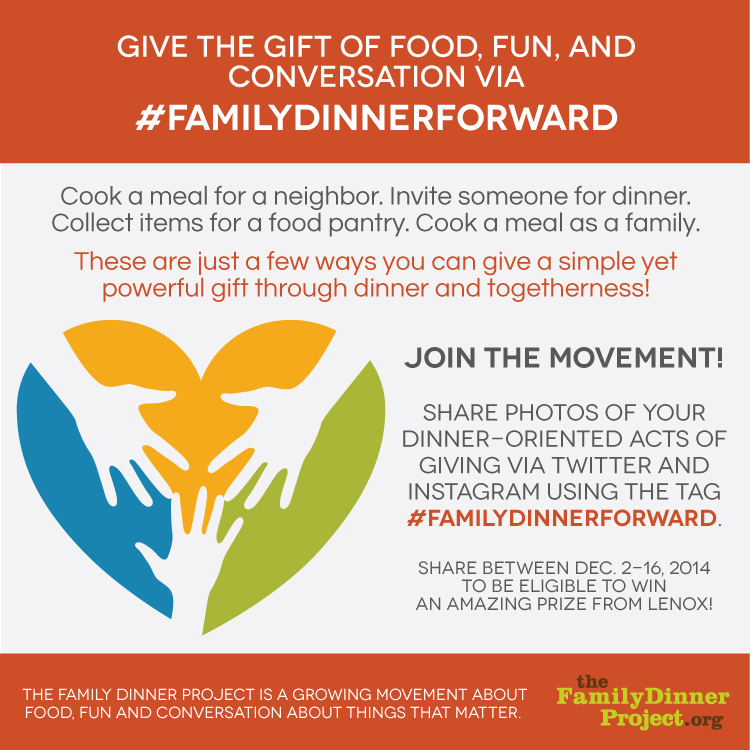 There is one thing that is sacred to us, family dinner time. I joke that I have the least scheduled kids in America. And believe me, I hear all about how it's a disservice to my sons to not have them participate in traveling teams and perform in recitals. I've been told they will never make a team in high school or hone their chops in music. We are chastised that our children play football amongst the dropping fall leaves in the park across the street and ride their bikes around the neighborhood with pals instead of doing something organized that improves their skills in some form or another. The boys knock on each other's door asking the age old question, "Can such-and-such come out to play?" They come home before dark and are home for dinner every night. Our sons live an idyllic existence reminiscent of childhoods past, that we as a society reflect on with reverence but don't build for today's generation. At ages 11 and nine, I'm told their college application with be painfully bland if they don't embrace all the activities now. I call BS, and apparently I'm not alone. 
Writer Scott Dannemiller says, "If you are like me, most valuable parts of your childhood did not take place in a special classroom or perfect practice field. Sure, you had teachers and parents to encourage you to do your best and work toward a goal, but that was balanced by plenty of other worthwhile pursuits such as tearing apart a Stretch Armstrong doll to see what was inside, building bike ramps in the driveway, and racing leaf boats through a drainage ditch in a rainstorm.
But we've sacrificed these things in pursuit of an ideal, and we've turned our children into little mini-adults in the process. Tiny professionals who have no time for brain-building, soul-boosting play during the week, so they desperately cram it into a weekend schedule packed with structured sports and recitals."
We value play time and family dinner time. Sharing a home cooked meal, or the occasional take out, makes us unplug and reset. We chat. We share. We laugh. This is dedicated time for conversation and reflection, a rarity in today's world that is guided more by quantity than quality. Plus, the boys set the table, replete with cloth napkins, fill water glasses, and help clean up. My favorite part of family dinner time is a tradition we began when Bird could first form sentences. Before we eat we hold hands and share one thing from that day that we are thankful for. We call this tradition our "thank-yous." Instead of saying grace, that can sometimes become rote and meaningless IMHO, we each take turns sharing something we are thankful for from our day. The only rule is that we can't say we are thankful for material things. As you can imagine, this is a wonderful way to reflect on our day, remember that small things matter, and reach for the golden nugget in every day. Our thank-yous are the ultimate conversation starter. 
With Giving Tuesday just around the calendar's bend, you can simultaneously embrace the spirit of giving and the joy of family dinner time. Between December 2-16, join me to kick off #familydinnerforward, an initiative (and fun contest!) to inspire families to give – within the family to one another and/or to those outside your family. To participate in #familydinnerforward, simply snap a dinner or giving-related photo and share it via Twitter or Instagram using the hashtag #familydinnerforward. Share as many photos as you like! All photos tagged on Twitter or Instagram with #familydinnerforward between December 2-16 will be entered to win prizes from Lenox (That's who makes my wedding china!). Two winners will be drawn at random and will receive four 4-piece plate settings of the Lenox Entertain 365 pattern of their choice (estimated value of $344-400 depending on pattern chosen)! US entrants only. 
Here are some examples of dinner-oriented acts of giving…I can't wait to see what you come up with, too:
Cook (or buy) a meal for a neighbor or someone in need – My friends prepared and delivered meals for us for two months after I had surgery this year. Their kindness fuels me still.
Invite someone over for family dinner. – There is always an impromptu guest at our table. Thanksgiving will be a random assortment of people, and that's just the way I like it.
Collect and donate money or food items to a food pantry – The Central and Eastern North Carolina Food Bank has its annual Holiday Meals Drive going on right now. $1 buys 5 meals. Deal of the century.
Cook a meal together at home, where everyone has a job. – I tell my sons that they aren't leaving my house to go to college until they can make a decent red sauce. One simple sauce will go a long way. We're still working on this!
I hope this inspires you to start your own family dinner traditions. I realize it's not always possible to sit down together as a family. Do what you can and don't beat yourself up over what you can't. Check out the conversation over at the Family Dinner Project. Dinner time need not be fancy. Just sit down at the table, turn off screens, chat. Relish the conversation and savor the time together. 

This post represents a compensated editorial partnership with The Family Dinner Project. All storytelling and opinions are, of course, my own.
Tweet
Share
{ 1 comment }