Tweet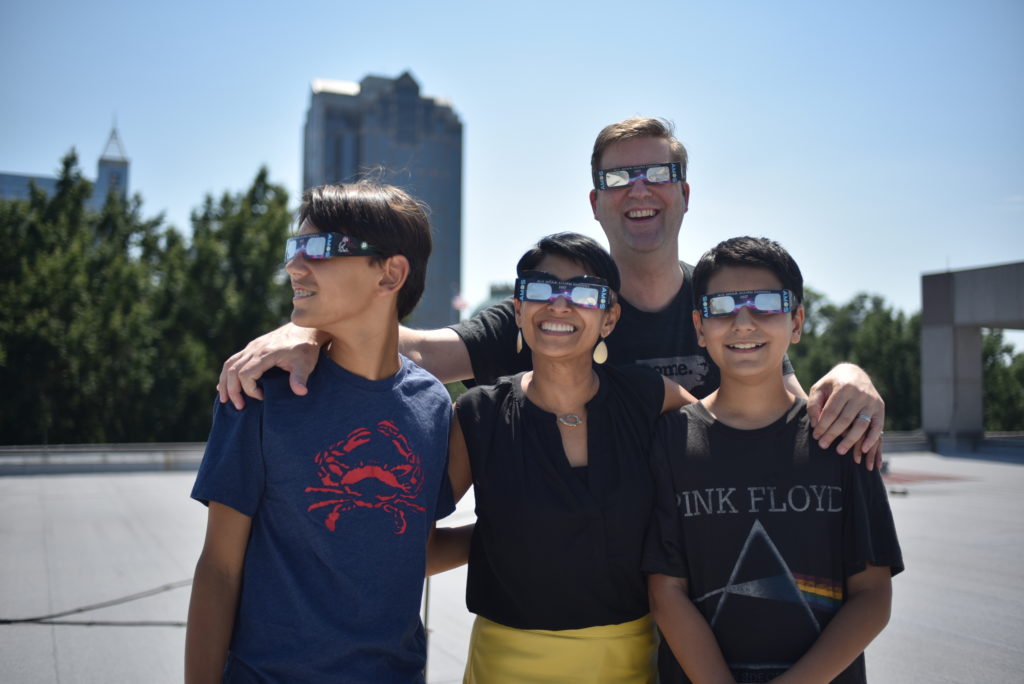 Photo credit: JRayFoto https://www.instagram.com/jrayfoto/
We've been a nation shrouded in darkness since November 9, yet today we welcomed the darkness as we eagerly awaited the total solar eclipse. In a paradoxical twist, it was the promise of darkness that breathed an airy lightness into our country.
Today was a remarkable day. We rallied around a scientific event, celebrating the universe, the glory of our world, and the sheer awe of nature. The eclipse was so much more than an astronomical event. Today's solar eclipse was a national unifier. No one questioned science. No one blasphemed the media. No one lashed out in outrage. Today was a day to celebrate our universe, and we were positively giddy as we donned those goofy glasses.
We ventured out to new places, we clutched our family close, and we chattereed with our colleagues as we awaited the eclipse with the anticipation of a child on Christmas Eve. Social media was atwitter with traffic reports, inquiries for eclipse glasses, clever viewing parties, and play-by-play reports as the sun and moon danced. Today we united as curious citizens sharing a common history, bonding over a shared experience. We took the time to mark August 21, 2017 in our family lore and all have a tale to tell. We posed for photos with those mirrored glasses and laughed at how everyone tilted their head in a different direction, a sure sign of following the photographer's voice since we couldn't see a thing.
Sure, some of us have had a shared experience since the election, but it's all been a beast to bear. We yearn for something positive, and the eclipse brought just the antidote to the influx of hate, pain, and dread each news day brings. Today that shared experience transcended social strata and time zones alike. America bonded over something positive and uplifting. We reveled instead of wallowed, and what a welcome change that was!
For two minutes today the darkness brought a much needed light. Let's embrace that and remember the warmth of the sun and all the promise it holds. We have important work to do.  Carry with you the awe and wonder of today as you carry on the resistance tomorrow.
Tweet