Tweet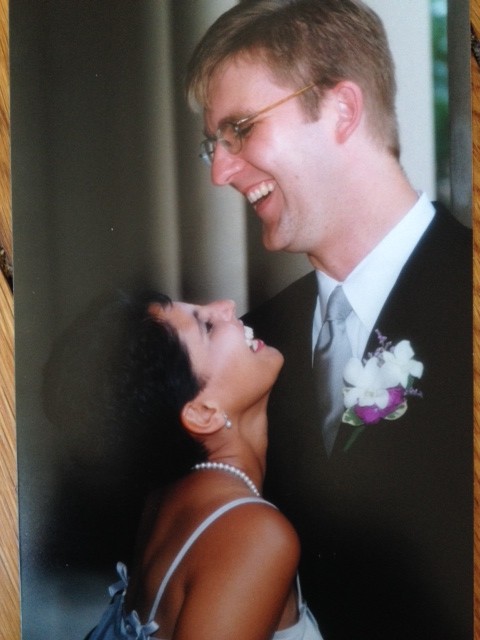 Today is our golden anniversary. 14 years on the 14th. The fact that it is also 2014 is auspicious, no? We should have woken up to glittery confetti and fanfare. Scratch that. I hate a mess. Instead, I woke up without my husband next to me. The crumpled white sheets were empty, except for the dog stretched out luxuriating in all the extra space. Mac Daddy seems to always be traveling for work during our anniversary. This is a tradition worth breaking.
He will be home in time for dinner, so there's that. Lark will bark before any of us hear the car pull up. We'll hear the jingle of Mac Daddy's keys in the door, shifting this way and that as he gets used to the finicky locks and doors in this old house we just renovated. The boys used to wait at the door like puppy dogs, but now they can't be torn away from the daily neighborhood game of nerf gun capture the flag to do more than yell "Hi Daddy" while running at warp speed. I'll likely be in the kitchen and I will greet him at the front door, depending on what's on the stove. We have our routines. It is the tapestry of our routines, peppered with adventure and whimsy, that weave together a rich life.
It's the simple trappings of everyday family life that make my life complete. I don't want for anything. Our life together has built this wonderful family. We've given our children something I never had – joyful childhood memories, a sense of place, solid footing of what a respectful, loving marriage looks like. I believe we are setting a positive example for our sons. Life isn't perfect, but where is the beauty in perfection anyway? Perfect isn't real. Instead we have harmony and humor, both are very real. Bird and Deal cringe when Mac Daddy and I kiss. They yelp and gag when we spontaneously break out in dance. We tell them they are lucky to see what love is. I hope the lesson sticks.
The last 14 years have simply whizzed by. Time flies when you're having fun indeed. That picture up there represents the core of what makes our marriage work. Laughter. Then again, we do fight about which one of us is funnier.
(It's me.)
Tweet