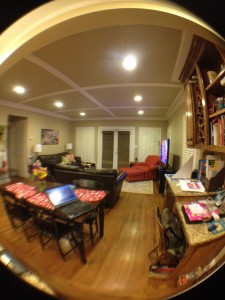 I've been gone for most of September. My jet setting life has been abundantly exciting. I was in Charlotte at the Democratic National Convention. I went to New York for the Social Good Summit as a UN Foundation Shot@Life Social Good Fellow. I ventured out to Ojai, CA for Creative Alliance, the most uplifting and thoughtful conference (more like a retreat…and more on that later). Yet all I could see ahead of me was today. October 1. I knew this marked the day I would be home. Sigh. Though I am an ENFJ through every cell of my body, I am also a dyed in the wool homebody.
Queue cliche homey quotes.
Where we love is home – home that our feet may leave, but not our hearts. -Oliver Wendell Holmes
There is nothing like staying at home for real comfort. -Jane Austen
Home is the place we love best and grumble the most. -Billy Sunday
I love being home with Mac Daddy, the boys, and the shedding barky beast, Lark. We have an easy, casual way about us (sometimes too casual). I am so delighted to be back among my family and homey comforts that I am overlooking the piles on every flat surface. The kitchen island and desk are certified disaster zones. The testosterone in the family is not fazed by piles. I happen to prefer things tidy. Alas, today I won't be bothered by the clutter and dog hair. Today I am simply happy to reunite my heart with my home.
Oh and
never mind that I also came home to a sick Bird who has a cruddy cough and green phlegm spewing out of his nose. I too am getting an annoying scratchy throat and tickly cough. The two of us sound like the understudies in the seal review at SeaWorld. We've been laid up as sickies among the piles today. But that's okay…because I'm home, under a pile of blankets.
Tweet
Share