Tweet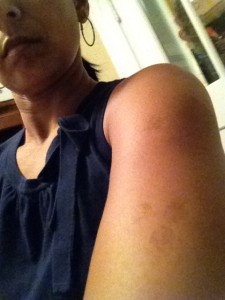 My parents moved to this country in 1970. I was not yet two years old. We have a funny Olan Mills family portrait that I jokingly call our "immigrant photo." We are starry eyed and eager and wearing some atrocious polyester. When I was younger I used to ask my dad why he left his native India to move his young wife and babies halfway across the globe. Being a man of few words but plentiful thought, he remarked simply, "To give you a better shot."
My dad settled in the States and did indeed give us a better shot. We would have been awfully callous to not seize the myriad opportunities presented to us. My brother and I had great promise, largely based on the risk my dad took. We grew up as run of the mill American kids who passed typical milestones and bumps in the road. We flourished, we failed, we floundered, we found joy. We experienced our very own shot at life, if you will.

Making our first best friend
Discovering our voice
Learning to whistle
Making a goal
Getting straight As
Meeting an idol
Skipping stones
Frolicking in the waves
Spoiling our dog
Learning to read
Getting our first library card
Swimming in the deep end
Gawking at fireworks
Riding a bike without training wheels
Nursing a found baby bird
Baking cookies
Going to Disneyworld
Playing cards and Clue
Splashing in puddles
Hamming it up for the camera to show off missing teeth
Writing letters to Santa
Singing along to the radio
Running through the sprinkler on a sweltering day
Finding tadpoles in the creek
And so on.
My parents gave me and my brother a shot at life; it is up to us to make it as remarkable as we can. I have four round scars that are daily reminders of the sacrifices my parents took to immigrate to America in 1970. They look like cigarette burns, and I was painfully ashamed of them as a child. They were obvious markers of what made me different, a disfiguring accessory to my brown skin that already marked me as foreign. I grew up in a small Southern town where differences were tolerated at best, shunned at worst. Friends would often point out those scars in disbelief and ask in their most perfect Valley Girl tone what on earth they were. Their noses were scrunched, their voices pitched. I physically cowered and made note to wear sleeves. I was scarred from the inside out.
Now I realize those immunization scars were a gift.
My parents had the access and ability to vaccinate me when I was an infant. I was protected. Those scars gave me life. My parents gave me a shot at life literally from Day One. Because they could.
For most of my life I have taken life's simple pleasures and gestures for granted. When I became a mother my whole outlook shifted (along with my boobs). I look at the world with a bigger, more sensitive heart. I feel empathy more acutely now, though it is sometimes debilitating. I have come to understand that we all laugh and love in a universal language, cliches be damned. Mothers love fiercely, no matter their time zone, station in life, or education level. So many mothers around the globe are unable to do for their children what my parents did for me.
Over 19 million children under the age of 5 remain unimmunized around the world.
As Americans, we take so much for granted. It is so easy to live a life with blinders to guide us just where we want to go. It is virtually unheard of for our babies to die from the likes of measles, polio, rotavirus (that both my sons had!), or pneumonia. These are vaccine-preventable diseases that are all but eradicated on our soil. Not so in many developing countries, including my native India.
Some staggering statistics to note:
Every 20 seconds a child dies of a vaccine-preventable disease.

1.5 million children die every year of these diseases.

75% of unvaccinated children live in just ten countries.

The number of children who die each year in developing countries because of lack of access to vaccines is equal to about half the children enrolling in kindergarten this year in the United States.
My parents gave me a shot at life. I, in turn, will do the same for not only my sons, but for the children around the globe whose mothers love them just as fiercely. And just like that, my scars have become beauty marks.
Please pledge your support to the UN Foundation's Shot@Life campaign. Get involved. Use your voice. Donate today. Just $5 immunizes one child against polio for a lifetime. Forgo that latte with an extra shot and give a child a shot at life instead.

Tweet