Tweet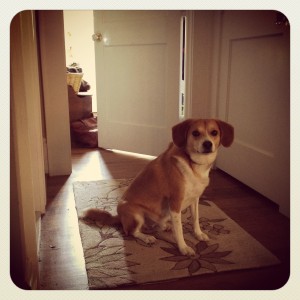 I'll be 44 years old this year.
I never had a bucket list but I did have a set of goals and desires planted in my head. I've tucked away many of my goals, as is often the case with parenthood, mortgages, and all the trappings of grownupness.
It's safe to say that I'm never going to medical school.
I'm wondering if I will ever see my byline or my photo on a book jacket.
Am I ever going to get to the Seychelles Islands?
I'm pretty sure running a 5K isn't going to happen (not due to anything other than lack of desire). I'm not sure why running was ever on any list of mine. I loathe running.
I'm not suggesting I don't have time to still accomplish things I've dreamed about. 44 isn't old by any stretch. But I can't help but look at my schedule and student loans and deadlines and wonder when I can fit it all in. I can barely manage eight hours of sleep. Balance is hard, folks.
Sometimes I wonder if the greatest thing I will have accomplished is teaching my dog to ring a bell when he has to go to the bathroom.
Tweet