Tweet
Do you have a bucket list? Some of my Avon Breast Cancer Walk teammates walked to check off the grueling yet rewarding experience from their bucket list. Another friend does crazy runs through mud and muck and 24-hour relays because she is a masochist gets off on crazy shit she thrives on the high of doing wild, new things. Someone else I know jumped out of an airplane just to cross off something outrageous from her bucket list. I never had such a list because I don't tempt Fate and I don't like to flirt with death. I realize we all die. One day. I don't like to think about it. I'm pretty good at denial.
I have something more like an Un-Bucket List, you know, things that I have no desire to ever do.
Run a marathon. Let's be honest, I have no desire to run period.

Be a Wide Spread Panic or Phish groupie. But I have seen Neil Diamond eight times in concert.


Eat guts, no matter what a delicacy they claim said guts are in Germany or France or Korea or anywhere else. Even calling them "tripe" and "sweetbreads" don't fool me.

Sacrifice long hours for big money if that means missing out on time with my kids and Mac Daddy.

Face my fear of snakes head on.

Take a mud bath.


Get a high colonic. Irrigation is for crops.

Have plastic surgery. Remember, I don't like to tempt Fate. I don't think a tuck and snip here and there are worth the risks. Vanity is overrated, while aging gracefully is underrated.

Have more children.

Visit a country that the U.S. State Department has deemed risky.

Partake in anything scandalous, especially while scantily clad.

Run for office.

Jump out of an airplane, hang glide, or anything else that involves the combination of flight and jumping.

Live on a working farm.

Watch Star Wars.

Learn how to build furniture or anything with my own two hands.

Get another degree. Two are fine by me, and I'll be paying off those loans until I die (just an expression, in case the Fates are listening!).

Camp. I don't do tents.

Fit into a bikini (See number  8.)

Be famous.

So here I am, carrying on with no bucket list, which is not to say I don't have goals. I do, however, think about my legacy and the mark I will have made on the world. I believe in leaving things better than I found them. When I turned 40 people asked me what I thought my life's greatest accomplishment was. There was a woman I barely knew who was badgering me on the topic while we were lounging poolside with our families one afternoon. I tried to ignore her yammering, that I imagine is how a chihuahua would sound if it could talk. I sheepishly shrugged my shoulders and slumped a little. I hadn't done anything grand.
The closest I got to climbing Kilimanjaro was via Toto on the radio. I hadn't amassed a million dollars like a friend whose sole goal was to have a million bucks in the bank by the time 40 struck. And based on how this dude lives his life, I'm certain that I wouldn't have been happy and fulfilled if I were just driven by money. I don't have a white lab coat with Dr. Dirt and Noise embroidered on the lapel; my dreams of medical school flew the coop moons ago. Ilina isn't a household name, and the New York Times hasn't asked me for an interview. I don't have a paperback best seller or even a blog that makes me enough cash to pay Sallie Mae. Hmmm…what exactly had I accomplished by 40?
Well, it's been almost three years since that woman asked me poolside about my life's greatest accomplishment. My answer then is what it remains today.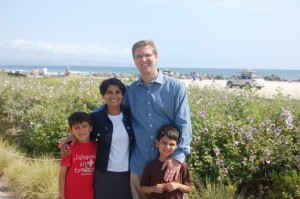 A happy, loving, joyous family.
Tweet