Tweet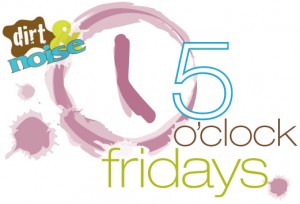 5:00 Fridays is making a special appearance today. It is Halloween, after all, a time for some witch's brew. And I'm not talking java.
I came home from Uganda to a lovely bottle of this (sent as a sample from my friends at Deutsch Family Wine & Spirits, but as usual, the opinions are my own):
I love a good punch, and as you might know, I have a punch bowl with matching handle cups that hang on the side a la 1970s that I love to pull out for soirees. The fine folks of HobNob shared a recipe that is simply perfect for tonight's trick or treating festivities (for the adults, not the kids, natch). There will be a chill in the air in North Carolina tonight so a little punch is sure to warm the cockles of trick or treating parents. A happy glow is the perfect antidote to the kids' sugar high.
HobNob's Wicked Red Punch
1 bottle of HobNob Wicked Red wine (screw top, 10 bucks…just how I like my wine)
1 1/2 cups spiced rum
2 cups orange juice
 2 tablespoons orange zest
1 tablespoon ground ginger
1 tablespoon cinnamon (I once knew a girl who is allergic to cinnamon. Random, right?)
2 tablespoons simple syrup
1 lime, zested
Combine all ingredients in a punch bowl and let stew in the refrigerator for at least an hour before serving. Add a block of ice to the bowl before serving. Stir well and serve. If you are feeling particularly Marthaesque, garnish the glass with a sugar rim and an orange slice. Note that I won't be doing this as I'm going to serve up this punch in Solo cups to my neighbors.
Tweet