Tweet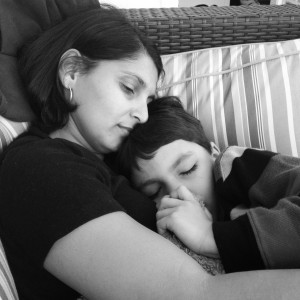 Guess how much I love you?
Today my baby boy is 7.
Deal was born sunnyside up, an apt indicator of his personality and outlook.
My sweet Deal is quite simply the most darling little boy I know. I'm biased, but if you met him you would concur.

He is shyly quiet but outrageously loud when he is comfortable and having fun. We've even had his hearing checked because his "inside" voice is as loud as hockey arena voice. Yet he whispers his order to a waiter and barely utters an audible thank you to store clerks. I should add that he won the "Marvelous Manners" award in first grade.
Deal is ever so gentle and is the first to offer a hand to little kids on the playground. It's a shame really that he will never be a big brother. It is heartwarming to see him engage little children, and he practices how to make babies laugh (the pththth raspberry is his go-to trick).
Deal just might grow up to be a hoss. He is almost as big as Bird, and strangers stop us all the time to ask if they are twins. Sometimes I hear, "How old are your beautiful boys?" "8 and 6," I answer. "Are they twins?" Um…. This makes Bird and Deal crack up. Anyway, Deal just might have inherited Mac Daddy's height genes and gentle disposition, but he is my baby. We've spent a lot of time together, just the two of us. Bird was in school for two years before Deal so we had long days to wile away the time and sneak in afternoon naps.
Deal has grown into a kind, considerate, generous soul. He is timid to a fault and totally turned off by wild child antics and risk taking. I pray this continues through his teenage years. He is wild about LEGO bricks and prefers his own creations to sets that dictate the direction of his creativity. His imagination is magical, and his memory is a steel trap. If you go to the Mall of America or the Rose Bowl, tell Deal where you parked the car. I promise you he will remember.
Since Deal was a baby he has had quirky little old man mannerisms. He crosses his legs and sits Thinker style. His facial expressions are the stuff of acting classes and modeling shoots.
Most of all, Deal has a smile that will melt glaciers faster than global warming. He stinks at poker face and has a chuckling toothy grin that bursts into full blown laughter when his fancy is tickled. That smile makes me swoon. That smile will take him places. That smile feeds every beat of this mommy's heart.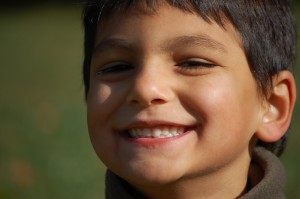 In honor of Deal's birthday, I'm sharing his favorite smoothie recipe.
Peanut BUTTer and Banana (Because you never outgrow potty humor)
1 cup lowfat milk
1/4 cup crunchy peanut butter
1 banana
1/2 cup vanilla yogurt
1 teaspoon flax seeds
few ice cubes
Put all ingredients into a blender or Ninja Kitchen. Pulse until smooth. Add more milk if necessary to reach desired consistency. Pour into a tall glass and add a straw. Filling, tasty, healthy!
Happy Birthday, Deal!
This is what I have said to my baby boy every single night since he was born: I love you to the moon and back again. Stay sweet.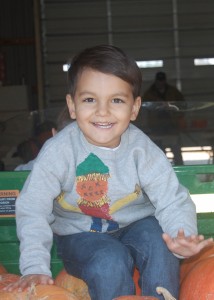 Tweet