Tweet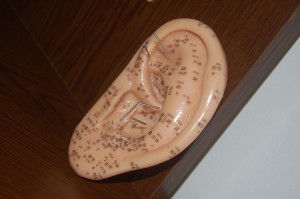 I was on pins and needles this morning. My palms were a bit sweaty, and my mind was running laps alongside the butterflies in my stomach. After I dropped Bird and Deal off at school this morning I went a few blocks further and took a giant leap out of my comfort zone.
I got acupuncture.
I'm the girl who loves all things medical and was a med school flunkie before I even took the MCAT. I have a lot of respect for doctors and have put myself in their hands without hesitation many times. I have faith in "traditional" medicine and generally regard "alternative therapies" as something to leave on the back burner to investigate when the need arose. I've never eschewed Chinese medicine but never had reason to really explore it either. Part of the problem is that people like me are lost in the unyielding folds of the paradigm of Western medicine. For centuries before diseases were named after the scientists who discovered them, people in far corners of the earth have been healing in more poetic, organic ways that mimic the universe that surrounds us.
I had the opportunity to learn a bit more about acupuncture specifically. A new studio opened up near me so I decided to give it a try. Never mind that Dress., a fantastic boutique of new and consigned designer clothing, is in the same building, giving me a reason to pop in and drool. I chatted with Jim, the acupuncturist, for a good long time before he made a voodoo doll of me gave me a treatment. I got the basic de-stress treatment, which I could use every single day. I'm wondering if Jim makes house calls…hmmmm?
I always thought acupuncture was used for last ditch efforts in pain management or for the wacky ilk of people who wear patchouli, dance barefoot in fields of poppies, and drink their own breastmilk. I didn't realize that acupuncture can actually effectively treat a whole laundry list of conditions – respiratory ailments, fatigue, stress, sleep disorders, digestive problems, and various strains, pains, and sprains. I'm not going to even attempt to explain the ins and outs of acupuncture because there are people far more qualified than I do so. Acupuncturists go to school for a good long time and take a litany of tests to get certified, licensed and such. What I do know is that it's a practice centered around the concept of balance, something we're all trying to strike, right? I like the holistic approach that Jim took, taking into account diet, lifestyle, exercise, and all the things that either contribute to or detract from overall good health.
Before Jim used me as a pin cushion started his treatment, he checked my pulse. I should also mention that he made me do exactly what I scold Bird and Deal for doing at the dinner table – he made me stick out my tongue. Apparently your tongue says a lot about you without you having to speak a word. I swear I felt like Jim was telling me my fortune based on what he knew of me from just checking my pulse and looking at my tongue! He was spot on, and he had never seen my medical records.
So when we got down to business, I simply took off my shoes and laid on the table (just like a massage table). Then I profusely apologized for not giving myself a pedicure the night before. I mean, I gave myself a pedicure while I was in labor both times so I didn't gross out the doctor but I didn't give my acupuncturist the same courtesy. Shame on me, but in my defense, it didn't occur to me that I'd be taking my shoes off. Jim put some needles in my legs, feet, hands, and even my forehead (sans Botox, though that two-fer might be a good revenue stream). I always thought acupuncture needles were fat things like sewing needles. While lying there I pictured embroidery needles poking me but then I realized I hadn't even felt anything beyond the first prickle. Those needles are actually quite tiny! I felt like flinching just once, but that's because my nose itched. I laid still for about 20 minutes, waiting for the stress to melt out of me.
And you know what? It did.
I laid still for 20 minutes without thinking about my grocery list, to-do list, or inbox. I didn't feel sleepy or spent. I simply laid still, gazing at the cloud cover blowing in, listening to the train rattle by, and inhaling quietly. In the past when I've done yoga or gotten a massage I've never felt fully relaxed. I never got into that rhythm and accepted what came to me. This time was different. I felt a weight lifted and I left Jim's studio with straighter posture and a relaxed yet energetic outlook to my day. A few years ago I would have told you that acupuncture was hocus pocus but now I'm a believer. I don't quite have the words to explain its effects but I can tell you that I left changed. And any time someone can help contain the stressful fire burning in me, the better it is for all of us.
If you're in the Raleigh area and want to check out Jim's acupuncture studio, tell him I sent you. On First Fridays he even does acupuncture happy hour for a little mini treatment to shed your stress to fully enjoy the weekend.
Acupuncture Pain & Stress Center
16 Glenwood Ave. (in the Carter Building)
Raleigh, NC
919.260.4104

If you're chicken, skeptical, or just undecided, give Jim a call. Besides being the uber professional, he's a super nice guy. Jim is offering my readers a free consultation and FREE relaxation treatment like I had. So what are you waiting for? You must be on pins and needles to go check it out, right?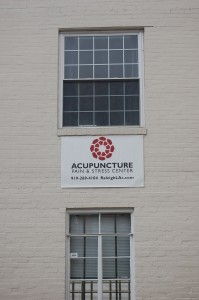 This is an unsponsored post. I was not compensated for writing it but I did get a free relaxation treatment. The opinions are all my own.
Tweet